AlphaTest
µ
HELIX
®
Test-Probes and Fine Pitch Test Fixtures


probing the small end of small...



...

spring-loaded

,

compliant

,

fine pitch

,

ICT and FCT

,

long lasting

,

catalog or custom

conforms to RoHS and REACH Directives
APPLICATION:Used in the construction of fine pitch test sockets, fine-pitch fixtures, contactors, fine-pitch Kelvin probes, ICT probes, FCT probes, rf probes, controlled impedance probes, rugged connectors for:

Testing: SoC, SiP, CSP, BGA, QFN Semiconductor Packages (in circuit test and functional test).
Testing: mems | mcm | hybrid | medical | automotive| aerospace components | telecommunications.
Testing: RFID antennas | flex circuits | fine-pitch PC Boards.
Testing: sensors | High Density Lead Frames | read/write heads.
Testing: 0,65 or 0,5 or 0,4 or 0,25 mm arrays or grids.
Testing: high-density, fine-pitch substrates, SoC's or SiP's.
Testing: GHz range wireless and other high-speed devices.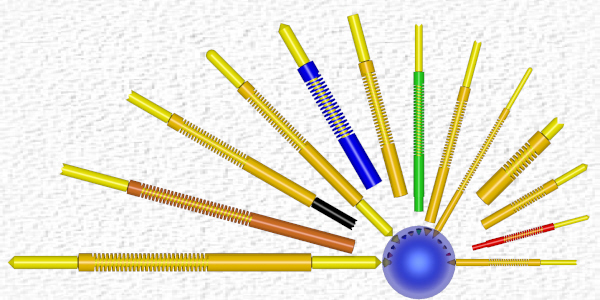 Precision Redefined: Test Probes and Fixtures for Reliable Testing
AlphaTest Corporation developed, patented* and manufactures our Micro-Helix Test Probes in Shelton, Washington. With probe diameters ranging from the larger diameter of .020" down to the smaller diameter of .008" (.508 mm -.203 mm), our miniature probes are sold globally to the electronics manufacturing industry under the trade name AlphaTest μHELIX® Test-Probes. These micro probes meet the escalating demands of StripLine, BGA, CSP, SoC, SiP, MEMS, mcm, hybrid, RFID antenna, flex-circuit, KGD, and flat-panel testing and offer the performance edge in discrete, compliant pogo style test-probes by offering wide-bandwidth, short electrical length, 250 µm row & column spacing plus a selection of tip and body formats. AlphaTest µHELIX® Test-Probes conform to RoHS and REACH Directives.


AlphaTest Corporation

also supplies custom test fixtures, provides training, and shares design concepts with end-users and resellers who incorporate these spring-loaded probes into their products. We specialize in fast turn proto-typing and are prepared for the frequent revisions associated with custom products. We offer testing solutions for those difficult testing projects containing small features and challenging topography. * Patent Numbers 5,982,187 and 6,034,532 and 3,165,066. Any other manufacture of these products is prohibited.
---